Phu Quy tourism in addition to visiting famous spots and discovering the life of the peaceful sea island homeland, you also have the opportunity to immerse yourself in the cool sea water with a pleasant atmosphere. You can not ignore the opportunity to go to Doi Dua beach located in the administrative center of Phu Quy island district – being a clear blue beach, gracefully embracing the reliable embankment to create a gentle stream of water, with famous tourist spots and the charming scenery here always makes people's hearts shake the melodious notes of the emotional level.
Coming to Doi Dua Beach, visitors will really be lived amid nature because the beach here is still very wild. Currently, Doi Dua Beach has been invested the budget by the Central to build a system of embankments to prevent erosion and cavitation and renovate it into modern tourist service areas with many works for tourists to visit and entertain.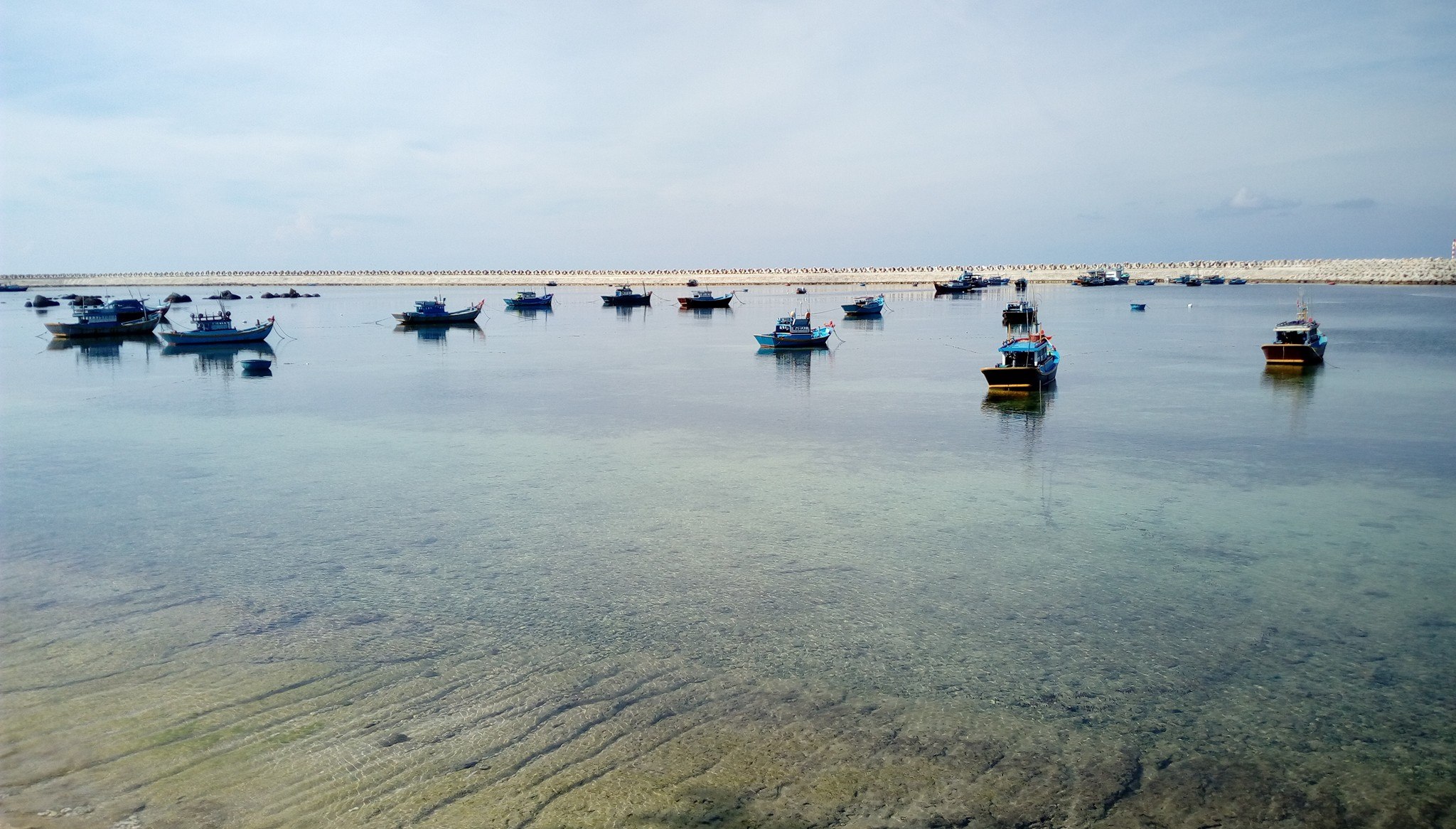 The scene here has a temperate climate all year round with beautiful green coral reefs and vegetation, with a promontory to the sea with many magical cliffs formed, formerly known as Doi Ong Tinh. Doi Dua Beach is located next to a residential area, crowded houses, gentle sandy hills and no big waves here, ideal for immersing in the cool water.
The unique feature of Doi Dua Beach is that outside, there is a row of shielding embankments painted in many colors against the silver-white waves, when the waves rise and blend in, a spectacular strange color will appear.
Around Doi Dua beach are tourist service areas that are being built in accordance with the marine environment here. The system of restaurants, hotels, coffee shops… in the center of the tourist area, ready to serve fresh seafood dishes all year round. At the same time, this location is located next to the administrative center of the district, so it will give visitors a very safe feeling. This is also a unique feature of Doi Dua Beach that few places can compare.
Coming to Doi Dua Beach, in addition to admiring the pristine sea, listening to the sound of albatross, the sound of waves lapping, enjoying the cool sea breeze, watching the red sunset slowly descending on the vast sea; tourists also participate in many entertainment activities,… it will be a great relaxing time for everyone. An activity not to be missed when coming to Doi Dua Beach is that on every Lunar New Year, visitors will enjoy the joyful and bustling atmosphere of the traditional boat racing festival on the island held annually at this place.; This is considered the biggest festival of the islanders, on this occasion all the local people gather here to watch the traditional races at district and commune levels, creating a wonderful spring atmosphere on remote islands.
With the available natural beauty, Doi Dua Beach is being built into a modern tourist area, attracting many tourists to visit, swim, entertain or organize teambuilding activities… and become a attractive destination in the journey to discover the land of Phu Quy with "Salty sea, passionate love"