Passengers who wish to book tickets for the Phan Thiet to Phu Quy high-speed ferry operated by Phu Quoc Express can contact the following hotline numbers: 0889371234 – 0889271234 – 0889211234 for detailed advice on the ferry schedule, ticket prices, destination information, and more.
The ticket price for a one-way trip from Phan Thiet to Phu Quy by high-speed ferry on regular days is only 390,000 Vietnamese Dong per trip, suitable for all types of customers' budgets.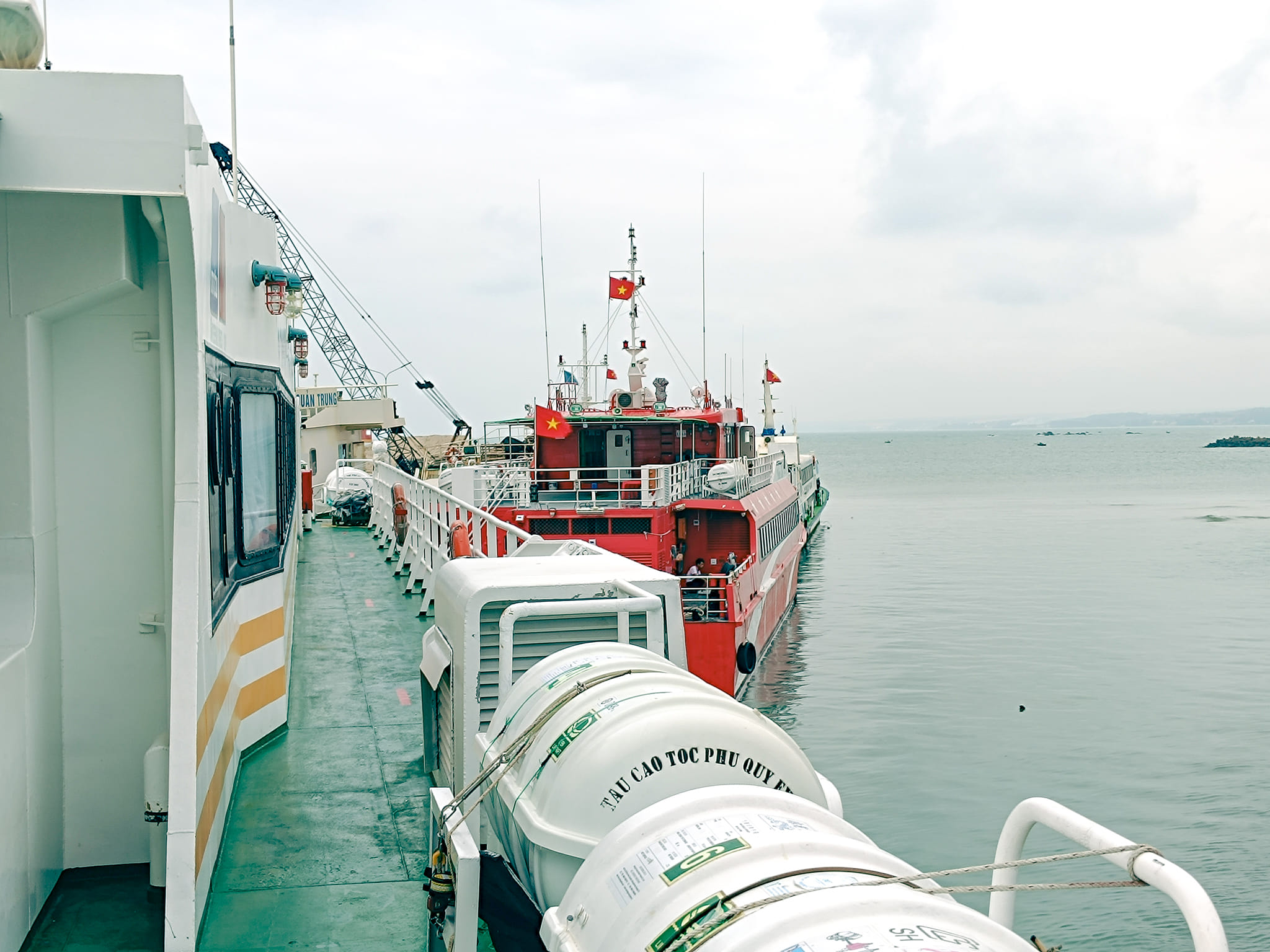 When visiting Phu Quy district, travelers can freely explore famous tourist attractions without worrying about entrance fees. Some of these include Ganh Hang, Doc Phuot, Phu Quy Wind Power Field, Bai Nho, Tam Thanh Fishing Village, Lang Co Embankment, Cao Cat Mountain Summit, Mo Thay, Hai Dao Beach, Trieu Duong Bay, Bai Lang Embankment, and Phu Quy Lighthouse. Two renowned specialties of Phu Quy that you should try when visiting this beautiful island are seafood and "bo nong" (hot beef).
How long does it take to travel from Phan Thiet to Phu Quy?
Phu Quy is an island district of Binh Thuan province, located approximately 56 nautical miles (about 110 km) from Phan Thiet city. With a ferry speed of 28-30 nautical miles per hour, it takes about 2 hours to travel from Phan Thiet Port to Phu Quy Island using the high-speed ferry operated by Phu Quoc Express. With this travel time, if passengers have urgent matters, they can book a round trip ticket and return on the same day.
Since the Dau Giay – Phan Thiet expressway officially opened, the travel time from Ho Chi Minh City to Phan Thiet has been reduced to about 2 hours, compared to 4-5 hours via the National Highway 1A route. This development has created opportunities for the tourism industry of Phu Quy Island.
The best time to visit Phu Quy Island is from December to June each year. During this period, the sea is beautiful, clear, and calm, making it easy to explore the surrounding smaller islands.
Phu Quy High-Speed Ferry Ticket Prices
On May 19, 2023, Phu Quoc Express Joint Stock Company will inaugurate the Phu Quy – Phan Thiet – Phu Quy high-speed ferry route. The ticket prices for the Phu Quy high-speed ferry operated by Trung Trac high-speed ferry are as follows:
ECO Ticket: 390,000 VND per trip
VIP Ticket: 580,000 VND per trip
NCT/Children Ticket: 310,000 VND per trip
Disabled Person: 270,000 VND per trip
Local Residents: 370,000 VND per trip (with household registration in Phu Quy district)
Note:
Children (6-11 years old) and senior citizens (above 60 years old) are eligible for discounted ECO fares according to the company's policy.
The prices mentioned above include VAT.
Children under 6 years old or less than 1.2 meters in height, when sharing a seat with an accompanying adult, travel for free.
The ticket prices above are for one-way travel from Phan Thiet to Phu Quy or from Phu Quy to Phan Thiet.
Contact for Booking Phu Quy High-Speed Ferry Tickets
Vetauphuquy.vn always updates important information about high-speed ferry ticket promotions, detailed monthly ferry schedules including the opening time of ticket sales, applicable discounts, one-way or round-trip ticket options to Phu Quy, etc. You can subscribe to receive updates on our website at https://vetauphuquy.vn or follow our fan page "Phan Thiet – Phu Quy High-Speed Ferry" on the social media platform Facebook.
To increase the chances of successfully booking Phu Quy high-speed ferry tickets online, you need to prepare the necessary personal information in advance, including your full name, date of birth, citizen identification number, place of birth for yourself and accompanying passengers, a reliable internet connection, and an international Visa or Mastercard with sufficient funds.
Alternatively, you can easily contact our customer care hotline for ticket assistance and support at 0889211234 – 0889271234, or visit authorized high-speed ferry ticket agents for guidance on procedures and information about early bird promotions for Phan Thiet to Phu Quy high-speed ferry tickets. We wish you a safe and enjoyable journey!
Please reach out to us at:
Email: booking@taucaotoc.vn
Hotline: 0889211234 – 0889271234
Website: https://vetauphuquy.vn
Review of Phu Quy Island: From Activities to Accommodation
According to the information provided in the article, it has guided customers on how to book high-speed ferry tickets from Phan Thiet to Phu Quy. Tickets are the first requirement for passengers who want to visit the island because currently, there is only one sea route to Phu Quy, and there are no flights available.
Upon arriving on the island, tourists often rent motorcycles at prices ranging from 100,000 to 120,000 Vietnamese dong per day, right at their place of accommodation, to freely explore the island.
Accommodation in Phu Quy
Phu Quy Island has not developed many resort services, primarily consisting of small hotels, guesthouses, or homestays. Many tourists choose to stay in the Tam Thanh area due to its proximity to restaurants and convenient evening transportation, although the drawback is that there are few rooms near the beach.
In contrast, many hotels and guesthouses in the Long Hai area are located near the beach but are over 2 km away from the city center. However, the road from Long Hai to the city center is quite deserted in the evening, with no lights and little traffic.
Some recommended homestays on the island include Mer Homestay, Sandy Boutique Hotel, Homestay Linh Ca, Nhà Mình Homestay, Hometown Làng Chài, and La Isla Bonita Homestay. Budget hotels on the island include Hải Long Hotel, Bảo Quân Hotel, Phú Liên Hotel, Bảo Trân Hotel, Thanh Xuân Hotel, Lamin Hotel, and Toàn Uy Hotel. The room rates range from 300,000 to 600,000 Vietnamese dong per night, and they provide basic to modern facilities and amenities.
Phu Quy Cuisine
The cuisine on Phu Quy Island is incredibly diverse. In addition to the delicious dishes that are rare on the mainland, such as emperor crabs, moon crabs, bullfish, tuna, lobster, red grouper, and snapper, there is also grilled beef. The beef on the island is described as tender and fragrant, with a flavor that surpasses the beef on the mainland by far, according to the feedback from tourists.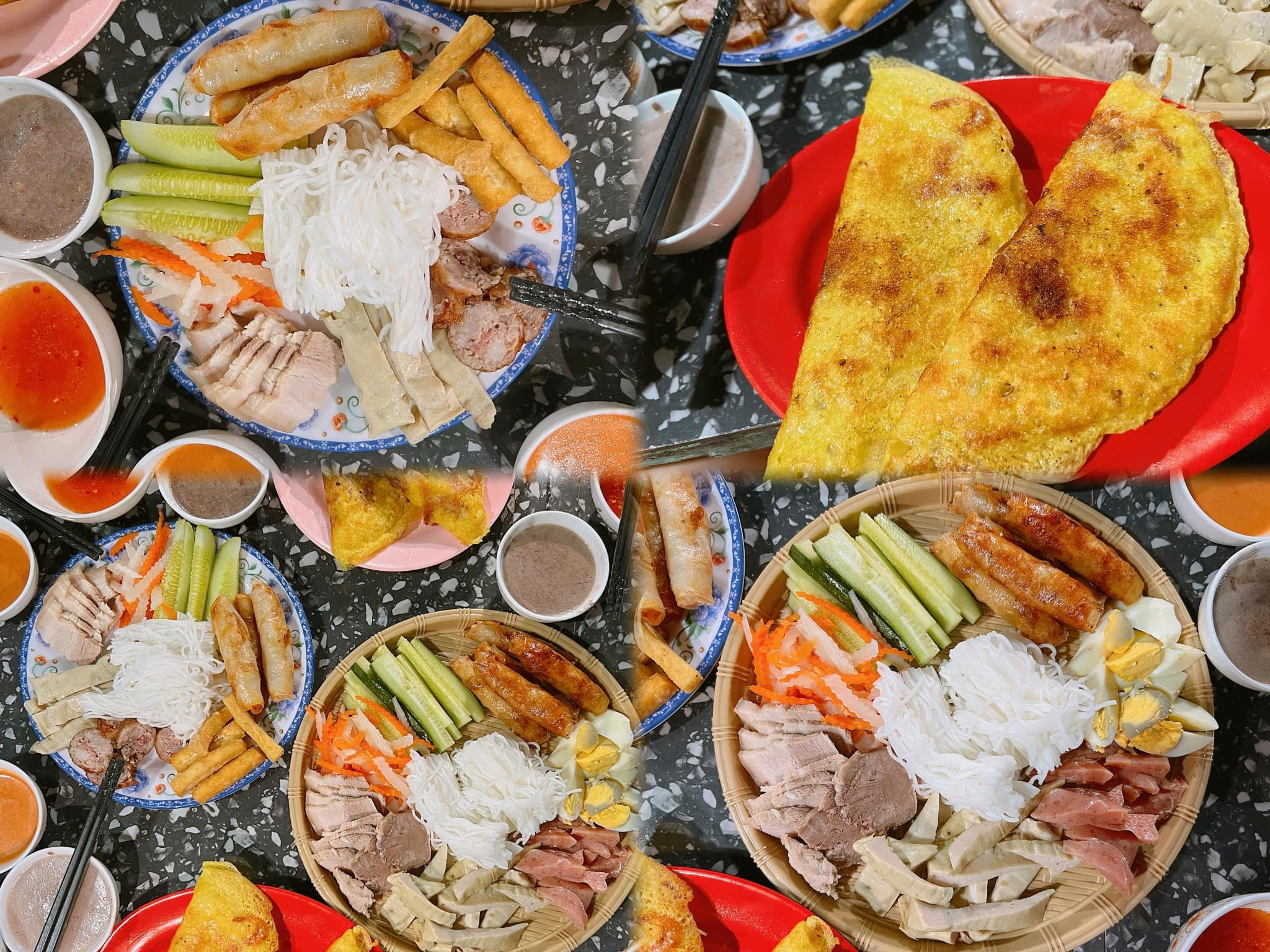 Most of the seafood in Phu Quy is harvested and caught from the abundant natural resources of the vast sea. Choosing to enjoy the island's culinary delights is a wise choice. Moreover, the culinary allure of Phu Quy Island is something to remember, indulge in, and cherish in the hearts of both local and distant visitors.
Tourist Attractions on the Island
Being a place with beautiful landscapes, valuable historical relics, unique cultural traits, and hospitable coastal residents, Phu Quy Island is gradually becoming an attractive destination for tourists visiting Binh Thuan.
Phu Quy is famous for its pristine beaches and clear waters, including Triều Dương Bay, Bãi Nhỏ, and Gành Hang. Additionally, there are attractions such as Linh Quang Pagoda (a national-level historical relic) located on a high hill, which was built in the eighth year of Cảnh Hưng and is now over 250 years old. The pagoda still preserves the imperial seals bestowed by the Nguyen dynasty.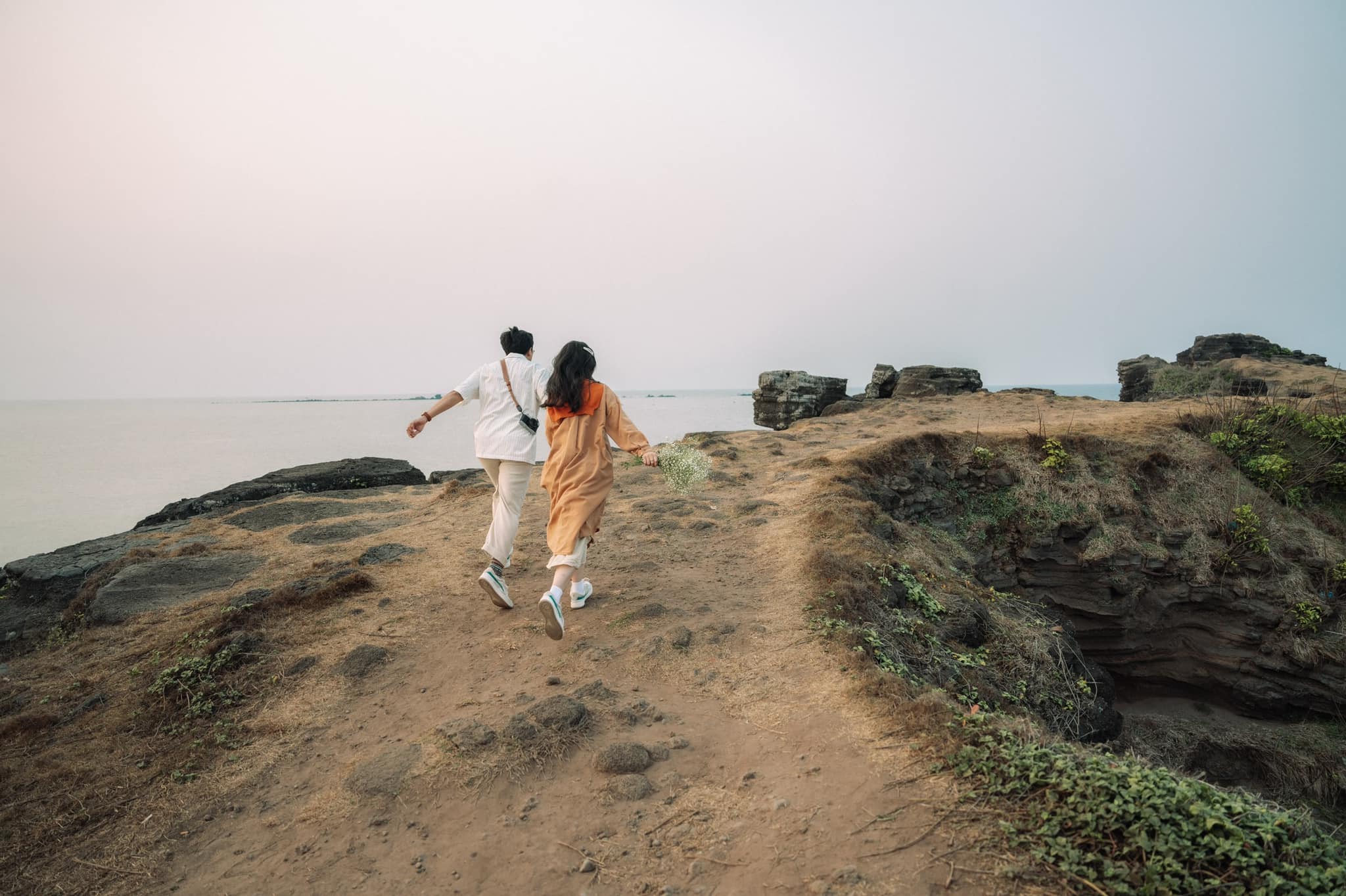 Nearby is Vạn An Thạnh, which houses nearly 100 sets of whale and turtle bones. This place is also considered a marine museum with a rich collection of whale-related artifacts.
One of the must-visit destinations is the Thầy Nại Tomb, built in the 17th century. This place is regarded as a spiritual sanctuary for the coastal residents.
Other attractions include a l