Linh Buu Pagoda is situated in Hamlet 1, Ngu Phung Commune, Phu Quy, established by Venerable Thich Tu Hue from Tra Can Pagoda – Ninh Thuan, along with the Buddhist community in 1971. The pagoda is nestled at the foot of a hill, hidden among the remnants of trees, creating a serene and tranquil landscape.
Under the slope of Cam mountain, there is Linh Buu Pagoda built in 1972, the main direction of the pagoda overlooking the vast sea. The natural scenery mingles with the temple's architecture that creates a beautiful, pure, charming, attractive aqua painting that attracts visitors to explore nature, visit the pagoda and worship Buddha.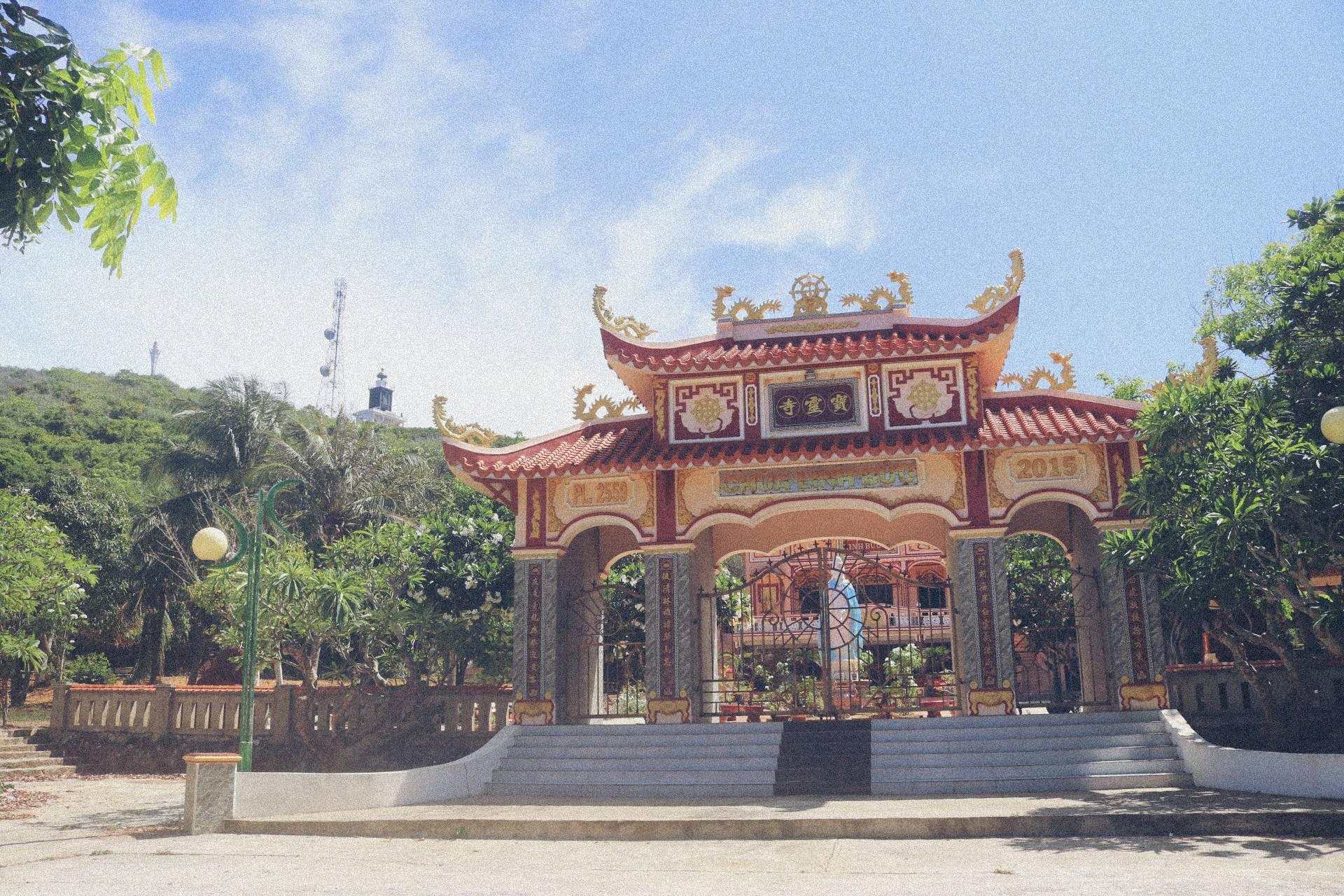 The overall architecture of Linh Buu pagoda includes many items built, decorated with bold Buddhism; all are made of solid, immeasurably high, interconnected materials on a fairly large, airy, pure campus that are suitable for contemplation.
The Buddha shrine is made up of 2 roof layers like a lotus, the upper layer is small and high and the lower layer spreads wide; on the walls forming a cube with many complex lines, elaborately embellishing topics related to Buddha in sharp and vivid areas; the two sides of the shrine are carved with flowers and leaves, a blooming lotus in the middle and the delicately carved arrays of themes, concentrating a variety of genres, creating a peaceful scene in meditation.
Visitors enter the Buddha Shrine through 3 main doors, the two sides have protruding old floors and two reliefs representing Mr. Kindness and Mr. Evil. Through the main door inside the shrine, visitors will enjoy the array of decorative themes exuding the serenity and grace of the Buddhist place. Above the Buddha shrine, there is a statue of Avalokiteśvara sitting on a lotus, the two sides are two Buddha statues riding a white elephant and a lion in the state of chanting, contemplating, surrounded by the Buddha's life scene, the innermost is the two-dragon adoration of swastika
and flowers.
Like other Buddhist pagoda, Linh Buu Pagoda annually organizes festivals such as Buddha's Birthday on the full moon in April, Vu Lan Festival on the full moon in July and the full moon ceremony of October of the lunar calendar with the meaning of praying for a peaceful and prosperous life; The festival always attracts a large number of Buddhists on the island and visitors to sacrifice and worship Buddha.