Translation: On May 19, 2023, Phu Quoc Express, the high-speed ferry company, put the Trung Trac ferry into operation on the Phan Thiet – Phu Quy route. Vetauphuquy.vn is the official authorized ticket agency for Trung Trac Phu Quy high-speed ferry and is always ready to assist passengers in the fastest ticket booking.
Introducing Trung Trac Phu Quy High-Speed Ferry:
Trung Trac High-Speed Ferry is designed according to European standards and utilizes 4 Rolls Royce MTU engines – the world's leading marine engines, with a total engine power enabling a speed of 30 nautical miles per hour, significantly reducing the travel time from Phan Thiet to Phu Quy to approximately 2 hours. It is also the largest twin-hulled high-speed ferry operating on this route in Vietnam, with a capacity of up to 598 passengers per voyage.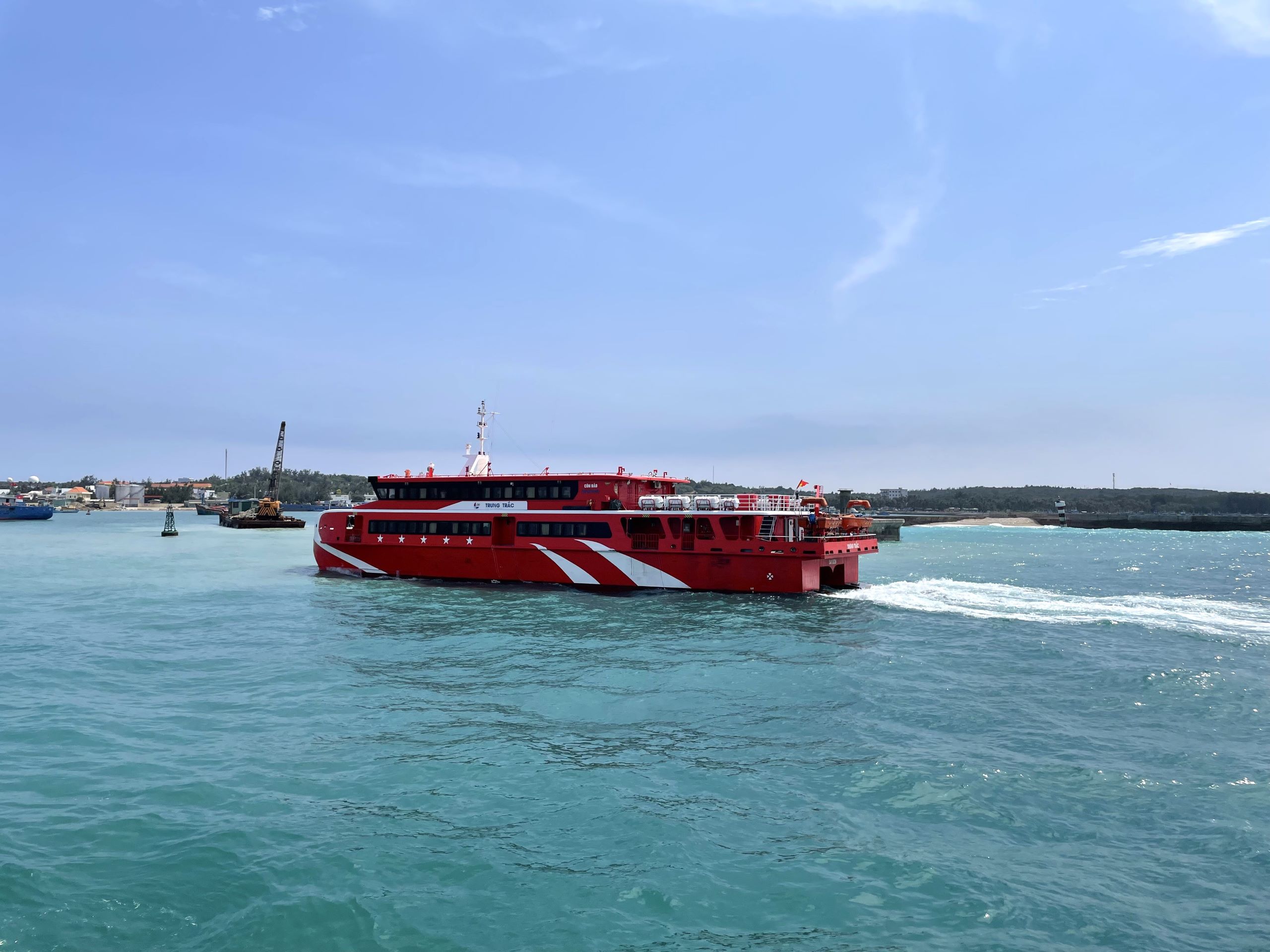 The ticket prices for Trung Trac ferry are as follows: Economy class: 390,000 VND/one-way, VIP class: 580,000 VND/one-way, elderly and children: 310,000 VND/one-way, disabled passengers: 270,000 VND/one-way. There is also a special discount for local residents of Phu Quy island district, with a price of 370,000 VND/one-way. All ferry passengers are provided with complimentary beverages and cold towels.
List of Trung Trac Phu Quy High-Speed Ferry Ticket Agencies:
Phan Thiet Transport Port Agency
Address: Ward 5, Hung Long Ward, Phan Thiet City, Binh Thuan Province
Phone: 0889211234
Website: https://vetauphuquy.vn
OSC Vietnam Travel
Address: 02 Le Loi, Ward 1, Vung Tau City, Ba Ria – Vung Tau Province
Phone: 02543852008
Website: https://oscvntravel.com
Vietnam High-Speed Ferry Ticket Office
And many other Phu Quy high-speed ferry ticket agencies nationwide.
Con Dao District, Ba Ria – Vung Tau: 0987 556 294
Ba Ria City, Ba Ria – Vung Tau: 0389 546 426
Nationwide: 088 937 1234